Yellowstone Universal Disk Controller
Regular price
$139.00 USD
Regular price
Sale price
$139.00 USD
Unit price
per
Sale
Sold out
Yellowstone is a universal disk controller card for Apple II computers. It supports nearly every type of Apple disk drive ever made, including standard 3.5 inch drives, 5.25 inch drives, smart drives like the Unidisk 3.5 and the BMOW Floppy Emu's smartport hard disk, and even Macintosh 3.5 inch drives. Yellowstone combines the power of an Apple 3.5 Disk Controller Card, a standard 5.25 inch Disk II controller card, the Apple Liron controller, and more, all in a single card.

Features
Add 3.5 inch drive and smartport hard disk support to your Apple IIe or II/II+
Provide more disk connectivity options for your Apple IIgs
Bring Macintosh 3.5 and naked Apple 3.5 inch drive mechanisms to the Apple II
Drop-in replacement for an Apple Liron controller card (with optional DB-19F adapter)
Drop-in replacement for a standard 5.25 inch or Disk II controller card
Run two drives of different types on twin independent disk connectors
Disk II controller emulation mode for tricky copy-protected disks
Works with DOS 3.3, ProDOS, GS/OS, and more
User-upgradable firmware for future feature enhancements
20-pin ribbon cable connectors or optional 19-pin D-SUB connectors
Yellowstone has got you covered. Yellowstone is compatible with the Apple IIe, Apple IIgs, Apple II+, Apple II, and most Apple II clones.
Accessories
Need a DB-19 female adapter for some of your disk drives? See the DB-19F adapter for Yellowstone. An "Everything Bundle" is also available, with the Yellowstone card and two DB-19F adapters.

Drives with a standard rectangular ribbon connector can be plugged in directly to one of the sockets on the Yellowstone board. Drives with a D-shaped 19-pin connector can be plugged in to Yellowstone with the aid of a DB-19F female adapter. See the instruction manual for the full list of supported drives.

Questions?
Please visit the Yellowstone project page for complete product details, compatibility information, the user manual, and firmware updates.
Downloads
Instruction Manual: PDF
Firmware Downloads: project page
Share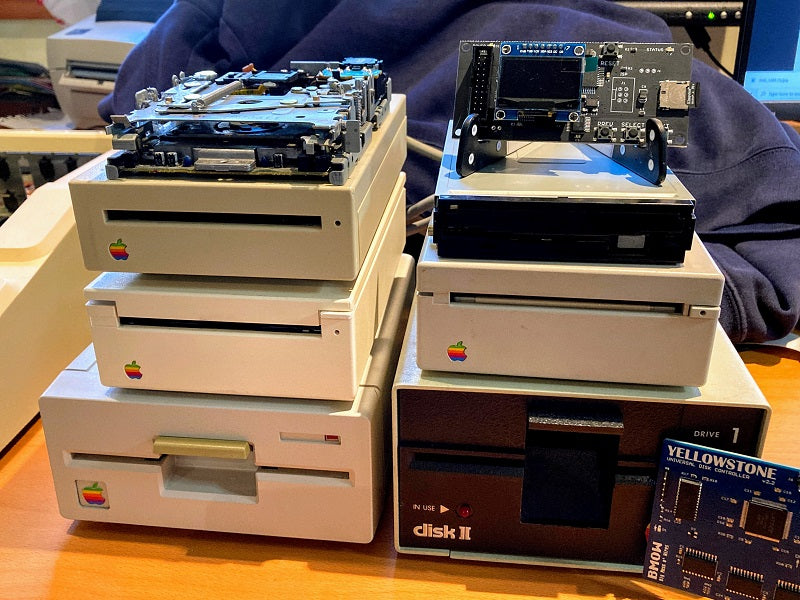 You may also like
Regular price

$129.00 USD

Regular price

Sale price

$129.00 USD

Unit price

per

Regular price

Sale price

$22.00 USD

Unit price

per

Regular price

$169.00 USD

Regular price

Sale price

$169.00 USD

Unit price

per

Regular price

Sale price

$19.00 USD

Unit price

per

Regular price

Sale price

$44.00 USD

Unit price

per

Regular price

Sale price

$15.00 USD

Unit price

per

Regular price

Sale price

$9.00 USD

Unit price

per

Regular price

Sale price

$10.00 USD

Unit price

per

Regular price

Sale price

$19.00 USD

Unit price

per

Regular price

Sale price

$16.00 USD

Unit price

per

Regular price

Sale price

$19.00 USD

Unit price

per